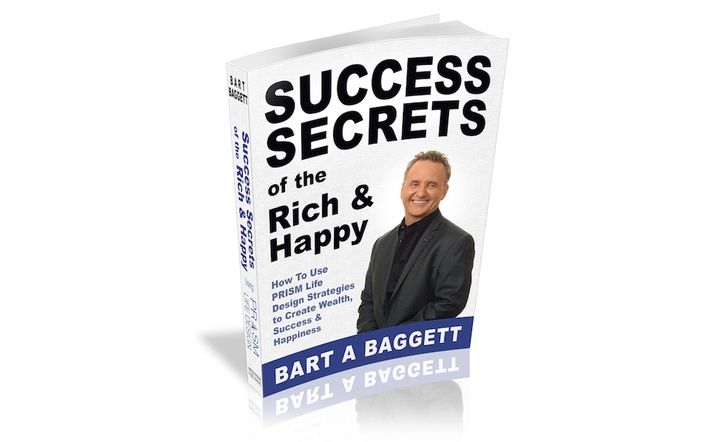 Success Secrets of The Rich & Happy
How to Use PRISM Life Design Strategies to Create Wealth, Success, and Happiness
Wouldn't you like to know the Secrets of How to Create
More Wealth, Success, and Happiness in Your Life?
"Bart reveals the prosperity secrets only a few really understand. This is a powerful, accurate and comprehensive guide for building wealth in your life. Read it. Live it." —Mark Victor Hansen
Co-creator, #1 New York Times Best-selling series Chicken Soup for the Soul.
Dear Friend,
If you have ever wished there was a shortcut for success...this book will open your eyes to the reality of wealth and happiness, and the tricks and tips it takes to get there. The good news is that there are dozens of things you can start doing today to change your life. Happiness is a choice, Wealth is a decision.
This book is much more than a step-by-step method to acquiring wealth. It is a guide to designing your life from the inside out. It will help you align your career with your beliefs and values.
This book is a road map that will guide you to living an extraordinary life of meaning and significance. You will discover the "mental map" of those special people who have created a life filled with emotional and financial wealth. Bart Baggett reveals a recipe for success than blends timeless wisdom with cutting edge psychological techniques, personality profiling, handwriting analysis, belief systems, self-talk, values, daily habits, meditation, NLP, and his own PRISM Life Design processes.
Finally, you can harness the power of your unconscious mind to work for you (not against you) to quickly create the life you really want.
The tools you need are inside your brain. This book will show you step-by-step how to reprogram your mind and have it help you create an extraordinary life with less effort and less frustration.
No matter your background, color, race, religion, country, or even a past filled with challenges and struggle, the choice to change your life is firmly in your hands. This is not a motivational book that will inspire you to work harder or put your faith in anything outside of yourself … this is a book about your own personal core transformation.
Using Bart Baggett's PRISM Life Design foundations, you can learn new simple new habits that will lead to a lifetime of bigger, better, more fulfilling experiences.
There are rich people and their happy people. And, there are those that are both. If you are not already rich or happy, then the choice is yours to find a better formula to guide your life. This book reveals that formula. This is your textbook for designing your life with clear purpose and joy in every moment.
WHAT'S INSIDE:
• What are the 9 key personality character traits most self-made millionaires possess? Page 93
• Use your own handwriting to discover any self-sabotaging thinking patterns. Page 141
• What beliefs do rich & happy people have that poor and miserable people do not? Page 43
• What is one activity that poor people do and rich people almost never do? Page 328
• How to live in a "no-drama" zone and maintain life balance. Page 187
• Why owning your car or your house are not really assets to building wealth? Page 345
• Discover how to turn the voice in your head into a prosperity machine. Page 388
• What questions do wealthy people ask that poor people do not? Page 381
This is the definitive answer to life's most frequently asked questions...how do you become both rich and happy? This books reveals to you the methods, strategies, and processes to guide you into transforming your world into a life of true emotional and physical abundance. It shows you step-by-step how to change the way you think about the world, money, people and wealth, and how to control your emotional happiness
This book is for anyone who....

Has suffered from "Is this all there is?" syndrome.
Has suffered from a feeling of depression or sadness.
Has struggles with not having enough money.
Has worked too much and is not in emotional balance.
Has a deep yearning to experience something more from life.
Has been looking for a way to break free from fears.
Wants to take back control of their life.
Has all the material things money can buy and yet still isn't happy.
Anyone who wants to find a deeper meaning and purpose in life.
Wants to change their core beliefs and change their life.

"Bart Baggett's book, 'The Success Secrets of the Rich and Happy' is destined to become a classic. With deep insights and great simplicity, Bart has created a manual for success that should be read by everyone. If you read only one book this year, let it be this one."

--John Harricharan, award-winning author of the bestseller 'When You Can Walk on Water, Take the Boat.'

"Looking back at past events in my life, I now know why I had the outcome that I did. I've read some chapters twice already and continue t o refer to it as I gain new insight. I highly recommend this book to anyone who wants to make dramatic changes in their life. "

-Patty Yates
You can peruse the table of contents and see for yourself why these 440+ pages of "self-improvement" wisdom can change your life forever. It is one of those books you can pick up year after year and find totally new and fresh ideas you didn't notice the first time.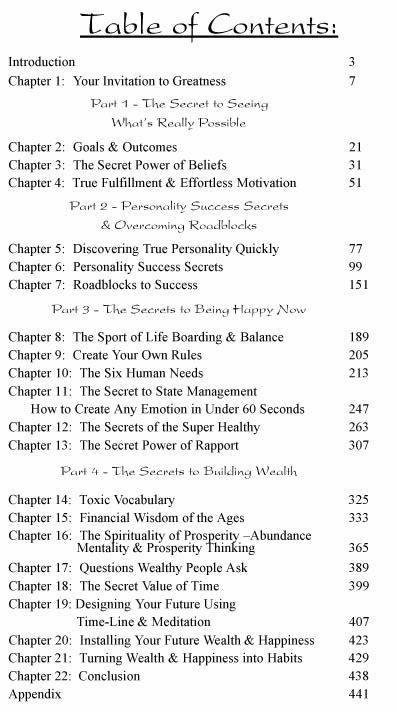 Imagine your life if the dozens of men and women that you admire and respect the most came together to share with you the tools, beliefs, decisions, and strategies they know and use on a daily basis to maintain their levels of financial and emotional wealth? How much better would your life be if you could get inside the heads of the heroes, super wealthy, and joyfully happy people in the world?
If you are like most people, you have tried many things to "get over the hump" and you seem to be just missing a few key ingredients to making it stick. The material in this book is a svelte combination of self-help, graphotherapy, hypnosis, Neuro-Linguistic Programming, handwriting analysis, spirituality, health, and financial management. There are over 440 pages stuffed full of these tips and techniques.

"Ohhhh, I'm glad to see someone finally put a positive spin on being rich! This book is a delight---inspiring, practical, and down-right fun! It can move you into the wealth you seek."

-- Joe Vitale, author of "Spiritual Marketing" and the Nightingale-Conant best-seller, "The Power of Outrageous Marketing"
"One of the most comprehensive, fun, easy to read, and effective Self-Improvement books ever written. Anyone that isn't richer and happier after reading this book... didn't really read it at all."– Verena King
"This is the ultimate Bart Baggett book.
This SSRH book is to Bart Baggett fans what
Unlimited Power is to Tony Robbins fans. It is a must read!"
Christina Tonjua, Oak Park, IL
This is a book you can read cover-to-cover and never find a place to stop, because it is so compelling you can't put it down. Also, the book has a great layout and notable quotes just jump off the page. This makes it the perfect book to keep on your bedside table, to catch a few key thoughts before you go to bed. You will enjoy this book so much, you might find yourself giving away copies for gifts all year!
This site has completely new and revised 2018 version. This book has not been printed in paperback or released on Amazon, yet. So, this site is the only place to buy and read the brand new totally updated version. Enjoy.
Your Instructor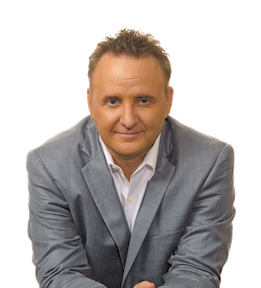 For the past decade Bart Baggett has been known as one of the world's top forensic handwriting experts, internationally acclaimed speaker, and a highly regarded TV legal consultant & expert witness.
He is also a best selling author, entrepreneur, and marketing consultant.
In his spare time, Bart scuba dives with sting rays, does stand-up comedy, and even has appeared in 15 feature films!
Mr. Baggett's strong media background (1500 radio and TV appearances) and charismatic on-camera presence has led him to work side-by-side with news producers, documentary filmmakers, and attorneys nationwide regarding celebrity legal cases and TV shows. You may recognize his face from his frequent appearances on prestigious news networks like CBS, NBC, Fox, and CNN.
Bart has hosted his own radio show and still hosts monthly webinars and tele-classes interviewing celebrities, experts, authors, and other thought leaders who inspire, teach, and make a difference.
He currently works from his Los Angeles-based office, and travels worldwide speaking and training. He has over 10,000 students in India, and thousands more in 20 other countries worldwide who have read his books, videos, or attended live Handwriting University trainings from from Taiwan to Mumbai.
Mr. Baggett's sense of humor and playful speaking style transcends cultural boundaries which allow him to connect with everyone from London's top CEOs, to college students in Pune.
Frequently Asked Questions
When does the course start and finish?
The course starts now and never ends! It is a completely self-paced online course - you decide when you start and when you finish.
How long do I have access to the course?
How does lifetime access sound? After enrolling, you have unlimited access to this course for as long as you like - across any and all devices you own.
What if I am unhappy with the course?
We would never want you to be unhappy! If you are unsatisfied with your purchase, contact us in the first 30 days and we will give you a full refund.